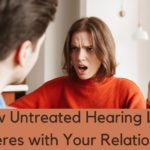 How Untreated Hearing Loss Interferes with Your Relationships
If you have hearing loss, or are partnered with someone who does, you may already have a sense that hearing loss can put a strain on a relationship. We all know that hearing loss makes it hard for the person who is dealing with it, but it also puts a lot of stress on those who are close to that person. Untreated hearing loss forces us to make all kinds of decisions based not on what we want to do, but what we have to do in order to accommodate hearing loss.
Relationship Difficulties with Hearing Loss
Hearing loss is a well-studied phenomenon, and new information is discovered on a regular basis about how age-related hearing loss causes changes in our brains, and in our lives. Of course, there is a deep connection between the way we interact with our partners and what happens inside our brains. In a study published in The Hearing Review in 2019, researchers noted that "both the hearing-impaired participants and their close partners bemoaned the loss of spontaneity and the difficulties of sharing small, unexpected incidents, observations and small talk in their everyday interactions." Those who get hearing aids know what it's like to "hear the world" again. All of the little sounds we encounter in the course of a day—birds chirping, feet shuffling, fridges buzzing—provide our brains with information that helps keep our brains healthy. It's really true that we must "use it or lose it." That's what treating hearing loss is all about: getting information to our brains. Our relationships are much the same. It's not just about hearing the most "important" things we have to say to each other. There are a thousand little ways we interact in the course of a day: commenting on things we see or hear around us, cracking jokes, telling each other about something we read, the list goes on. When communication becomes more difficult, we naturally start to communicate less. And when we communicate less, our relationships start to suffer. We lose the feeling of intimacy that we once had. In fact, a survey of about 1,000 British participants found that 33% had argued with their spouse as a direct result of hearing loss. Miscommunication is always frustrating, but a lifestyle of miscommunication can be intolerable, especially when we know there is something that can solve the problem.
Hearing Aids Can Help
Hearing aids are not just for the people who wear them, but also for everyone they interact with regularly. Aside from the numerous benefits that hearing aids have been shown to have for brain health, physical health, and emotional well-being on their own terms, they also help make life easier for the people we spend most of our time with. Hearing aids allow us to go to a restaurant and have a good conversation together, rather than having the conversation completely swallowed up by background noise. They let us enjoy a morning together, talking about the news of the day or our plans for the afternoon. They allow us to feel more confident and independent, which allows us to feel more connected to our partners rather than tied to them. Studies have shown that 95% of people say they are glad they got hearing aids, when asked after the first year of wearing them. Hearing aids are tied to greater feelings of social connection—not just with our spouse but with our broader social network. That helps us feel more secure, confident, and optimistic. In fact, people who wear hearing aids tend to report having a more optimistic view of the world in general, not even just their own lives.
Hearing Aids Are Better Than Ever
Hearing aids are not the big, whistling gadgets of the past. Today's hearing aids are sleek, powerful, and filled with marvelous technology. What's more, the stigma associated with hearing aids is all but gone: as people are living longer, we expect nearly everyone to require some hearing amplification at some point in their life. Hearing aids today connect with smartphones, automobile computers, tablets and more. They favor speech over background sound, improving the listening experience in countless different types of environments. Some can even automatically detect when you have moved from one type of sonic environment to another, and switch their program with no input from you. As hearing aids seem more and more complicated, they paradoxically become easier and easier to actually use. If you or your loved one is dealing with hearing loss, make an appointment for a hearing test today and find out what hearing aids can do not just for you, but for the quality of your relationship.