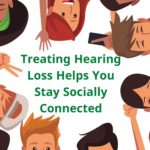 Treating Hearing Loss Helps You Stay Socially Connected
According to the AARP, 17% of people aged 65 and older are socially isolated. 46% of women over 75 live alone. Recent research has found that feeling lonely puts us at a 26% increased risk of early death. Another study showed that feeling lonely (even if you see people regularly, but feel that they don't understand you) is as physically harmful as smoking 15 cigarettes per day. Untreated hearing loss is strongly correlated with loneliness and social isolation. It makes sense, doesn't it? When we can't hear people, it's very difficult to feel connected to them. Conversations move slower, people need to speak differently to try to accommodate our hearing loss, and we simply can't keep up. In the early stages of hearing loss, we usually experience social fatigue after a much shorter time than usual. Some people mistake this fatigue for a separate age-related condition—"I can't stay out as long as I used to." In fact, the extra mental effort it takes to strain to hear, especially in a busy environment, makes us mentally exhausted much sooner than we're accustomed to. From this point, many people recognize that they have a hearing issue. They make an appointment for a hearing test, and may be advised to get a set of hearing aids. This is the right thing to do! Hearing aids keep us in the conversation, help keep our brains sharp, and help us stay connected to those we care about. Unfortunately, this is not the norm. On average, people tend to wait seven years from the time they notice hearing loss to the time they do something about it. This is likely because they don't understand the risks of leaving their hearing loss untreated, or don't understand what is to be gained from a good set of hearing aids.
Being Around People Doesn't Mean We're Not Lonely
In order to feel connected, we need to be part of the conversation, not just in the same room. If we have hearing loss, we can be surrounded by family and friends, but still feel left out. Others chat away while we can only hear when someone speaks directly into our ear. With a set of hearing aids, we can be more present with everyone in the room, and be more aware of what's happening. Hearing aids have been shown to increase feelings of social connection, as well as confidence and independence. Feeling connected and not being lonely doesn't necessarily mean we always need to be around people, and hearing aids help give us the independence to choose when we want to see others and when we need some alone time.
It's Not Enough to Hear "Some of the Time"
While most people consider their hearing very important to them, the rate of hearing aid adoption does not seem to reflect that. This is partly because many people believe that it's enough to be able to hear when "necessary." For example, if your partner says loudly in your ear, "It's time to go!" It's easy for us to think that being able to hear the important things means that we don't need hearing aids. Unfortunately, the science does not back this up. Even if we were able to hear everything that was said to us, but we couldn't hear anything else, we would be in trouble. Our brains take in all kinds of information from the environment through our ears: birds chirping, fridges buzzing, feet shuffling, distant sounds and close sounds of all volume levels. These sounds feed our brains information that keeps our cognitive abilities in good order. When it comes to our brains, it really is true that we have to "use it or lose it."
Hearing Aids Are Better Than Ever
Hearing aids today are technological marvels, housing tiny computers that are powerful enough to distinguish between speech and background sound, reduce reverberation from speech, connect via Bluetooth to smartphones and other devices, and even automatically recognize the characteristics of different environments and switch to the appropriate program. Some hearing aids can even use GPS to automatically return to a program that previously worked in a given space. While hearing aids are more powerful than ever, they also take less effort to use than ever! If you or a loved one is having hearing issues, don't hesitate to make an appointment for a hearing test today. Find out what's going on with your hearing ability and take the right steps to keep yourself in the conversation and stay connected!