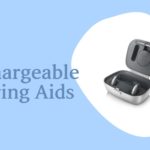 Best Rechargeable Hearing Aids
For generations now, hearing aids have been powered by tiny disposable batteries. This has meant that hearing aid wearers needed to keep a fresh supply of batteries on hand at all times, and manufacturers needed to build in a battery compartment to their hearing aids that could open and close. Battery compartments are an easy spot for moisture to accumulate, so leaving them open to dry out overnight is important to keeping your hearing aids working properly for the long term. But what if you didn't have to worry about batteries at all? Recent advancements in battery technology have dramatically changed the game in a number of industries, and hearing aids are no exception. Lithium-ion batteries can store a lot of energy in a small amount of space. This makes them able to power everything from power tools to smartphones to laptop computers, and, of course, hearing aids. Rechargeable lithium-ion batteries now allow hearing aids to work for a full day (or more), even when utilizing Bluetooth connections. Rechargeable batteries mean you don't need to keep a stash of fresh batteries around anymore, nor do you need to open the compartment door of your hearing aids. The battery compartment is sealed, which means moisture can't get in in the first place. Overall, the process of powering and maintaining your hearing aids is significantly simplified with the use of rechargeable batteries. Just about every hearing aid manufacturer offers rechargeable options at this point. Most will even have a rechargeable option or two amongst the variations of each hearing aid in their normal product line. You can usually tell the rechargeable option as it will have a letter "R" at the end of the product name. Let's take a look at a few of the different manufacturers of hearing aids and talk a bit about their rechargeable options.
Unitron
Unitron is a premium hearing aid brand offering superior sound quality and the innovative FLEX™ system. FLEX allows you to start with one tech level, and upgrade later using the same hearing aids if you decide you need more smart technology. FLEX also tracks your environmental usage, so you and your hearing healthcare professional can look over the data together, see how you're using your hearing aids, and design the best programs to meet your specific needs and consider upgrading or downgrading your tech level. Unitron offers rechargeable versions of its Moxi Move, Moxi Jump, and Stride models of hearing aids.
Oticon
Oticon hearing aids strive to produce sound that works with your brain, which helps you better make sense of your sonic environment. BrainHearing™ technology can be found in all of Oticon's devices, which helps your hearing aids communicate better with one another and with you to paint the most vivid picture of the sound around you. Rechargeable options in Oticon's product line include the More™ miniRITE R, the Opn S™, and Ruby families of hearing aids for adults. For children, Oticon offers the Opn Play™.
Signia
Signia designs hearing aids for the modern world. They start the process of finding you the right hearing aid by asking the question, "What is most important to you?" There's a model of Signia hearing aid for everyone, whether you prefer to be stylish or discreet. Signia stays ahead of the curve in terms of design, technology, and integration. Signia offers rechargeability in its Active, Styletto, Pure, and Motion hearing aid lines. Signia offers excellent "charge on the go" options, where your hearing aid case actually contains a battery that you charge at an outlet, and then you can charge your hearing aids anywhere by placing them in the case.
Phonak
Phonak wants to ensure that your hearing aids provide the most natural sound available; that's why they look to nature for inspiration. The Paradise and Marvel lines of hearing aids both are predominantly made up of rechargeable hearing aids, worn behind the ear.
Hansaton
The Swiss brand Hansaton believes in bringing out the best in every individual's specific hearing intelligence. Because everyone's hearing experience is different (based on head shape, ear canal shape, and ear shape) Hansaton strives to provide natural sound that our brains can interpret as accurately as the unaided ear. Hansaton offers rechargeability in its lines of behind-the-ear and external receiver systems.
Starkey
Starkey offers hearing loss solutions for the 21st century, and has done a particularly good job of ensuring the best options for use with facemasks during the Covid-19 pandemic. They offer the world's first wireless custom rechargeable hearing aids in their Livio line of hearing aids.
ReSound
ReSound has been a pioneer in perfecting digital hearing aid technology since the early days of digital signal processing. Utilizing lithium-ion batteries or the even more efficient silver-zinc type, ReSound says its most compelling rechargeable hearing aids are the ReSound ONE, LiNX Quattro, and LiNX 3D.