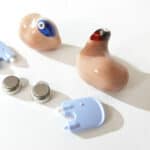 Things to Consider when Selecting Hearing Aids
If you've decided to get a set of hearing aids, good for you! Once hearing loss becomes an issue, hearing aids help us to continue to live our best and help prevent a host of potential negative outcomes that untreated hearing loss can bring. The hearing aid marketplace can be daunting. There are a lot of options to suit the many different needs of individual hearing aid wearers! Your hearing care specialist will help you navigate your way to the hearing aids that are most likely to work best for your needs and lifestyle, but it is still helpful to have an idea of what those needs might be and what some of the options are before you arrive at your care provider's office. Let's take a look at a few things to keep in mind when you're selecting a set of hearing aids.
Bring a Friend
If possible, have your spouse, friend, or family member come with you to your appointment. There's a lot of information to take in, and also to provide. With the help of a buddy, you'll be more likely to remember more.
Know What's Important to You
Your hearing care specialist should ask you questions about your lifestyle, to get a sense of which hearing aids will work best for you. Do you lead a very active lifestyle, or do you generally prefer more peace and quiet at home? Where does your hearing loss pose the biggest challenges? The better you can describe the situations in which you need to hear your best, and the activities you'll be engaged in while wearing your hearing aids, the more likely your care provider will be able to recommend the perfect set for you.
Rechargeable vs Disposable
One of the major decisions you'll have to make is whether to get a set of rechargeable hearing aids, or hearing aids that use traditional zinc-air disposable batteries. Rechargeables tend to be more resistant to debris and moisture and can last for a full day's wear before needing to be recharged. Disposable batteries last longer (up to around 20 days) but have to be replaced, meaning you'll need to keep fresh batteries on hand and dispose of your used batteries appropriately. Rechargeable batteries are typically only offered as an option with BTE (behind-the-ear) and RIC (receiver-in-canal) hearing aids, though there are now a few ITE (in-the-ear) models that make use of rechargeable technology. Smaller hearing aids will require the use of disposable batteries to provide enough power in a small enough package.
Think About Add-Ons
Typical add-ons for hearing aids include special drying devices, premium chargers for rechargeable hearing aids, wireless microphones, TV adapters, and more. While it is rare that someone might need all the add-ons, there are usually one, two, or three that can be very helpful. But remember, you can always purchase an add-on later if you start to notice some areas where your hearing aids are struggling to provide the intelligibility you need on their own.
Ask to Try Them Out
You can "test drive" many models of hearing aids. Your care provider can fit a disposable tip to the earpiece, program the device based on your hearing test, and give you a chance to see if you like the sound. You may wish to try more than one before making your decision. Remember, the better your hearing aids sound to you, the more you'll want to wear them!
Get a Contract
Hearing aids take time to adjust to and may need adjustments of their own as you're getting used to them. They will likely need a periodic repair or a reprogramming due to changing hearing needs. When you purchase a set of hearing aids, you should consider it more like entering into a relationship with a provider, rather than simply purchasing a product. Most reputable hearing aid manufacturers offer a 30- to the 60-day trial period and a warranty, including follow-up visits. All of this should be laid out in a contract that makes it clear what additional services you are entitled to, and for how long they'll be available. If your provider is not offering you a contract, it could be a bad sign and you might want to look elsewhere to purchase your hearing aids. Congratulations on doing the best thing you can do for yourself and getting a set of hearing aids! If you haven't yet made an appointment for a hearing test, do it today and take charge of your hearing health!