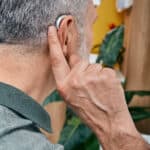 Seeking Hearing Loss Treatment Could Help Prevent or Delay Dementia
About 48 million Americans, or 14% of the population, are living with some type of hearing loss. Among those aged 60–69, the percentage climbs to about 33%, and to 66% for those aged 70 and up. If you don't have hearing loss yourself, it's likely that you know someone who does! Still, hearing loss is sorely undertreated. Only about one out of five people who need hearing aids is wearing them, and people tend to wait an average of seven years from the time they notice a hearing loss to the time they get a hearing test and seek treatment for it. While it's a shame to imagine so many people living with a reduced quality of life when a set of hearing aids could help them engage so much more easily with the world around them, it's also becoming understood as a public health crisis.
Hearing Loss Brings Health Risks
While hearing loss was once considered a benign—if annoying—part of getting older, we now know that it tends to set off a kind of cascade of negative outcomes. Those with hearing loss are more prone to complications like depression, social isolation, accidental injury, decreased physical activity, and an earlier onset of cognitive decline and dementia. Recent studies have found that the risk of dementia increases substantially with an increase in the severity of hearing loss. Those with mild hearing loss (26–40 dBHL) are at double the risk of those with normal hearing. Those with moderate hearing loss (41–60 dBHL) are at triple the risk, and those with severe hearing loss (61–80 dBHL) are at five times the risk. While this may sound alarming, it should still be noted that hearing loss is by no means a guarantee of dementia. For those whose risk of dementia is very low, even quintupling that risk may still leave them with a relatively low risk.
How Does Hearing Loss Lead to Dementia?
It is not yet understood how exactly hearing loss seems to provoke dementia, though there are a few promising theories that are being studied.
Cognitive Load
One theory is that the extra cognitive load caused by hearing loss promotes dementia. Those with hearing loss know how exhausting it can be to try to follow conversations and get other information from sound. It may be that all that extra work wears the brain down over time, drawing resources away from working memory and other cognitive systems. This might create a situation where dementia can more easily set in.
Brain Atrophy
The auditory cortex is responsible for assembling all the bits and pieces of sound that our ears pick up into a cohesive sonic image of our environment. It also automatically comprehends speech, and shunts it directly into short-term memory. When our ears stop delivering the normal amount of information to our brain, the auditory cortex begins to shrink. It's not that the brain cells die, but the grey matter between them begins to dissipate, allowing the structure to collapse. It's really true that we have to "use it or lose it" when it comes to the brain. This drawing away of resources from one part of the brain may contribute to the onset of cognitive decline and dementia.
Social Isolation
A third theory is that hearing loss tends to promote less social activity, and the social isolation that can result, in turn, promotes dementia. Spending time with other people is one of the most engaging things we can do with our brains, and if we become isolated we may not be providing our brains with enough activity to keep them healthy. While the link between social isolation and dementia has been confirmed, newer research suggests that hearing loss also promotes dementia aside from the incidental link between hearing loss and social isolation.
Hearing Aids Can Help
A French study found that older adults with profound hearing loss actually showed a reverse in cognitive decline when fitted with a cochlear implant. While research into whether hearing aids help reduce the risk of dementia is still in its infancy, there are strong suggestions that early adoption of hearing aids can help prevent dementia, or delay its onset. New research into Alzheimer's disease has also found that many people who pass away having never experienced dementia actually have all the signs of Alzheimer's disease. It is thought that this is possible because the brain has enough resources to reorganize itself around the diseased areas, and the person is still able to function normally. By getting hearing aids, you can ensure that you're doing everything you can to provide your brain with the information it needs to keep functioning at its best. While there is no guarantee that hearing aids or any other intervention will completely prevent the onset of dementia, research is strongly suggesting that hearing aids are an important part of mitigating the risk. If you or a loved one may have hearing loss, make an appointment for a hearing test today and find out how hearing aids can help you maintain your best health and well-being.